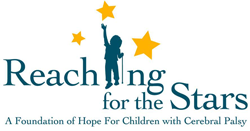 Reaching For The Stars. A Foundation Of Hope For Children With Cerebral Palsy was started by Anna Marie Champion and Cynthia Frisina Gray in late 2004. We are two mothers determined to go above and beyond what is currently possible to make a profound difference in the lives of our children and others, who suffer the negative physical, emotional and social impact of Cerebral Palsy. We saw the need that exists for more progressive research on the causes and possible cures and treatments for children with CP. We realized…."if not us…then who?"…and RFTS, Inc. was born.
RFTS Mission: Foster national Cerebral Palsy research with the goal of expediting the creation of new medicines and effective treatments for children with Cerebral Palsy.
We will also focus on:
• Building community awareness, education and patient advocacy, on a nation-wide basis, among care givers and health care providers regarding new and promising research, treatments and therapies.
• Developing and promoting new discoveries and clinical research programs that will advance the pharmacological, surgical and therapeutic treatment of CP.
For more information on this organizations, see http://reachingforthestars.org