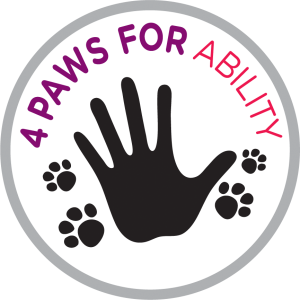 Info from 4 Paws For Ability, Inc.
We place our dogs on a three unit team and the adult member of that team is ALWAYS the handler of the dog in public. We do not certify the child to handle the dog. For the dog to go to school there would have to be a one on one aide to handle the dog for him. If this is what you are looking for here is the info.
We would be happy to work with you!!
You should read about how our program works and become familiar with the stages and fundraising requirement. Here is the information on this…..
http://4pawsforability.org/faq/
http://4pawsforability.org/the-process/
If you decide you would like to work with us you can go to this page and select the application you need. If your child is under 18 years of age or if you have an adult child whom you are guardian of use the child application. Please complete one full application for each person in your home who has a disability. THANKS!
http://4pawsforability.org/child-application/
If you have any questions feel free to call me at 937-768-9098
Karen Shirk, Executive Director
4 Paws For Ability, Inc.