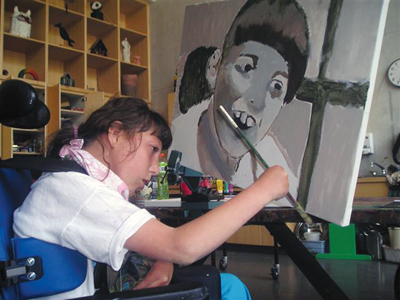 Markham artist – 15yr with Pachygyria – Art Exhibited
Expression through art. Emily Bigioni, who has a brain condition called Pachygyria that prevents her from speaking or walking, works on a painting. Her creations will be exhibited March 2011 at the Varley Art Gallery in Markham.
Emily Bigioni cannot speak or walk, but she can paint.
The 15-year-old has a brain condition known as pachygyria, similar to cerebral palsy.
Her artwork will be on display March 7 to 13 at the Varley Art Gallery.
"It is extraordinary for her to do this. It is inspiring because it promotes the positive healing powers of the arts," said Mary Pan, the event co-chairperson and a friend of the Bigioni family.
The opening reception is Monday at 7 p.m. and is open to the public.
Emily, a Brother Andre Catholic High School student, has been painting for eight years, much of the time at Holland Bloorview's Centre for the Arts.
Holland Bloorview is Canada's largest children's rehabilitation hospital. It pioneers treatments, technologies, therapies and programs that give children with disabilities tools to fully participate in life.
People attending the exhibit will see a video of Emily and others painting in her Bloorview program. Emily's exhibition is a precursor to upcoming programs at the Varley Art Gallery. Programs include Sensory Exploration in the Arts (a program for deaf-blind participants), as well as the Varley's new art therapy for children with autism spectrum.
Emily's former art teacher at Bloorview will speak at the opening about art therapy.
Deputy Mayor Jack Heath will be talking about accessibility, specifically his involvement on the Markham Advisory Committee on Accessibility.
Emily's work, most of which is in acrylic, is being installed this weekend at the gallery.
Many of the Markham resident's paintings feature nature, are abstract and include vibrant colors.
Emily is happiest when she is painting, according to her father, Vito Bigioni.
This is why he and Emily's mom, Sandra, raised more than $980,000 to ensure her arts programs at Bloorview would continue when threatened with cancellation.
Thanks to the Bigioni family's fundraising, the programs survived.
"He (Mr. Bigioni) became a voice for all these children that were voiceless," Ms Pan said.
Emily's mother has made an important contribution to Emily's art, too.
Mrs. Bigioni puts the paint on Emily's brushes since she cannot do this herself, then Emily paints the canvas.
Being a young artist is an advantage, according to Ms Pan.
"Youth art is playful, abstract. There's honesty about it and just speaks of joy," she said. "What she (Emily) is expressing is joy of art."
Ms Pan created the youth art program at the Blackwood Gallery, at the U of T's Mississauga campus. She also taught art at the Peel Heritage Complex.
"People should come and see. The exhibit will inspire them," she said.
Emily's exhibit will be in the lobby of the Varley Art Gallery. It is presented by the the fundraising arm of the Varley Art Gallery, called the Varley-McKay Art Foundation.
Emily will be donating one of her pieces to the Varley Fine Art Auction. Money raised will go to the Emily Bigioni Endowment Fund and then back into Bloorview's respite programs, which include her art programs.
The Varley Gallery's program for deaf-blind participants starts Wednesday, March 9. People can register for the April art therapy classes now. The classes are for children ages 7 to 12 years and for children who have autism spectrum disorder.
Visit www.visitthevarley.com or call 905-477-9511 for more information on the gallery and its programs.
http://www.yorkregion.com/news/article/962446–markham-artist-brings-joy