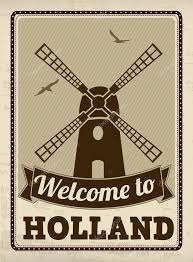 Welcome To Holland By Emily Perl Kingsley
I am often asked to describe the experience of raising a child with a disability – to try to help people who have not shared that unique experience to understand it, to imagine how it would feel. It's like this……
When you're going to have a baby, it's like planning a fabulous vacation trip – to Italy. You buy a bunch of guide books and make your wonderful plans. The Coliseum. The Michelangelo David. The gondolas in Venice. You may learn some handy phrases in Italian. It's all very exciting.
After months of eager anticipation, the day finally arrives. You pack your bags and off you go. Several hours later, the plane lands. The stewardess comes in and says, "Welcome to Holland."
"Holland?!?" you say. "What do you mean Holland?? I signed up for Italy! I'm supposed to be in Italy. All my life I've dreamed of going to Italy."
But there's been a change in the flight plan. They've landed in Holland and there you must stay.
The important thing is that they haven't taken you to a horrible, disgusting, filthy place, full of pestilence, famine and disease. It's just a different place.
So you must go out and buy new guide books. And you must learn a whole new language. And you will meet a whole new group of people you would never have met.
It's just a different place. It's slower-paced than Italy, less flashy than Italy. But after you've been there for a while and you catch your breath, you look around…. and you begin to notice that Holland has windmills….and Holland has tulips. Holland even has Rembrandts.
But everyone you know is busy coming and going from Italy… and they're all bragging about what a wonderful time they had there. And for the rest of your life, you will say "Yes, that's where I was supposed to go. That's what I had planned."
And the pain of that will never, ever, ever, ever go away… because the loss of that dream is a very very significant loss.
But… if you spend your life mourning the fact that you didn't get to Italy, you may never be free to enjoy the very special, the very lovely things … about Holland.
c1987 by Emily Perl Kingsley. All rights reserved.
About the Author
Emily Perl Kingsley
Journey of Hearts
A Healing Place in CyberSpaceTM
Emily Perl Kingsley
Emily Perl Kingsley broke into television in 1963 doing Script Research for the CBS series EAST SIDE/WEST SIDE, starring George C. Scott. This was the start of a series of what she calls "dream jobs" including work on John Gielgud's NBC-TV special AGES OF MAN and THE DIARY OF ANNE FRANK. In 1967 she became Associate Producer of the ABC-TV game show EVERYBODY'S TALKING. Two years later, she did the film research and assisted in editing a feature-length documentary on Malcolm X which was distributed in theaters (the film which was later adapted by Spike Lee into a major motion picture).
In 1970, after a research-booking job on THE DICK CAVETT SHOW and a stint as Talent Coordinator for the 22nd Annual Emmy Awards Show, Ms. Kingsley joined the Children's Television Workshop as a writer for SESAME STREET. She has been writing scripts and songs for the popular children's television show ever since and, in addition, has written about 20 children's books, two home videos (ELMO LEARNS TO SHARE and ELMO SAYS BOO) and many of her songs appear on
Sesame Street record albums, CDs and tape cassettes. Recently, she has written material for the CD-ROM versions of 101 DALMATIANS and THE LITTLE MERMAID for Disney Interactive.
She has received 12 Emmy Awards and 9 Emmy nominations for her work on SESAME STREET.
The mother of a child with Down Syndrome, Ms. Kingsley is a frequent lecturer on that subject and on mental retardation and disability rights. In 1976 she was elected to the Board of Directors of the National Down Syndrome Congress and was chairperson of their Adoption Committee. She served on the Board for nine years. She is co-chairperson of the Parent Assistance Committee on Down
Syndrome of Westchester County and has served as a member of the Westchester County Committee for the Disabled as well as the National Media Council on Disability, a national committee working to improve the ways in which people with disabilities are portrayed in the media. She currently serves on the Non-Traditional Casting Project, helping to encourage television and film casting of people with disabilities.
The story of her son, Jason, was the subject of an hour-long drama special, THIS IS MY SON, on NBC-TV in 1977. THIS IS MY SON was written by Allan Sloane, Ms. Kingsley's collaborator on the TV movie KIDS LIKE THESE.
Since then, Jason and his mother have appeared on such television shows as DONAHUE, GOOD MORNING AMERICA, DATELINE NBC, A.M. PHILADELPHIA, the ABC soap opera ALL MY CHILDREN, HOUR MAGAZINE, CBS SUNDAY, LIVE AT FIVE ACTION NEWS, CNN NEWS and many many others.
CHILDREN OF HOPE, a segment the Kingsley family did for NBC WEEKEND won an Emmy Award in 1979. An update on that segment aired on the premiere of Jane Pauley's new show DATELINE NBC, March 1993 and won the National Media Award from the National Down Syndrome Congress.
Jason has appeared dozens of times on SESAME STREET, was featured on ALL MY CHILDREN and in December 1984 he starred in a full-length episode of the ABC-TV series THE FALL GUY with Lee Majors. In 1997 he guest-starred in an episode of TOUCHED BY AN ANGEL.
Ms. Kingsley was instrumental in accomplishing the comfortable integration of mentally and physically disabled children and adults into the format of SESAME STREET. She has written much of the material for the show using children and performers who have disabilities, such as Linda Bove, the Little Theatre of the Deaf and Itzhak Perlman, among others. In 1980 she received an award from the National Theatre of the Deaf in recognition of her work for the deaf and hearing-impaired.
In October 1994, she received an EDI Award from the National Easter Seal Society in recognition of her Sesame Street scripts which have treated disability issues and enhanced the "equality, dignity and independence" of individuals with disabilities. She received another EDI Award and a Grand EDI Award in October 1995 for a Sesame Street script about wheelchair accessibility. She received yet another EDI Award in October 1997 for a Sesame Street show which featured a wheelchair ballet.
In 1983 THE DAILY NEWS selected Ms. Kingsley as one of the Ten Volunteer Women of the Year. In 1984 she received the Media Award from the State of Ohio Department of Disability. In November 1985, she received the National Down Syndrome Congress's Exceptional Meritorious Service Award.
In March, 1987, the entire Kingsley family was honored at the Annual Friends of the Retarded Ball held by the Westchester Association for Retarded Citizens. On that occasion, March 21, 1987 was proclaimed "Charles, Emily and Jason Kingsley Day" in Westchester County by order of County Executive Andrew P. O'Rourke.
In 1988, Ms. Kingsley received the 1988 Humanitarian Award from the Girl Scouts of America, Westchester/Putnam Division, the Exceptional Service Award from the New Jersey Association for Retarded Citizens, the Distinguished Service Award from ARC/Union County and the Kathleen Arneson Award from the People-to-People Committee for the Handicapped. In March 1989 she was honored with the Humanitarian Award from the Association for Children with Down Syndrome. In June 1989 she received the Outstanding Achievement Award from the State of New Jersey Developmental Disabilities Council.
In 1990, Charles and Emily Kingsley were given the first annual "Kingsley Award" by the Down Syndrome Parent Support Group of Tampa, Florida. This award, named for the Kingsleys, will be given each year to acknowledge extraordinary service to mankind by a family.
In July 1990, the Kingsley family received the Special Achievement Award for Families from the Joseph P. Kennedy, Jr. Foundation. This award recognized the family for "contributing in an extraordinary way to improving the quality of life of people with mental retardation." The award was presented at the gala celebration of the 100th birthday of Mrs. Rose Kennedy at Hyannis Port, Massachusetts.
Ms. Kingsley, in collaboration with Allan Sloane, co-authored a teleplay for a two-hour Movie-For-Television called 'KIDS LIKE THESE,' which dealt with her family's experiences raising a child with Down syndrome. Tyne Daly, Richard Crenna and Martin Balsam and five youngsters, all of whom have Down syndrome, starred in this film which aired on CBS-TV on November 8, 1987 and on September 19, 1988.
KIDS LIKE THESE received the prestigious humanitarian award, the 1988 Christopher Award, as well as the 1988 National Easter Seals Communication Award. It won First Prize (Dramatic Category) at the Rehabilitation International Film Festival in Tokyo, Japan in 1988. In addition, KIDS LIKE THESE won the 1988 ARC of Excellence Award from the Association for Retarded Citizens of the United States, the Media Award from the National Down Syndrome Congress and the Community Service Award of Outstanding Service Through Media from the Association for Retarded Citizens of Norfolk, Virginia. It was voted Best Movie-of-the-Week at the 1988 Media Access Awards.
Since its initial airings on CBS-TV, KIDS LIKE THESE has been shown several times on the LIFETIME Cable Network, on the E! Cable Network and in many foreign countries.
Ms. Kingsley is the on-camera host of a Westchester County biweekly cable-TV show called FAMILY FORUM ON DEVELOPMENTAL DISABILITIES.
She has also co-authored, with Barbara Gibbs Levitz, a documentary film called EMPLOY•ABILITY, narrated by James Earl Jones and designed to encourage employment of individuals with developmental disabilities. EMPLOY•ABILITY was produced and sponsored by the Woolworth Corporation and the President's Committee on Employment of People with Disabilities.
EMPLOY•ABILITY won a Gold Medal at the Questar Awards International Competition, a Bronze Plaque at the 41st Annual Columbus International Film and Video Festival, an EDI Award from the National Easter Seals Society, a Certificate of Creative Excellence from the US International Film and Video Festival, the New York Festivals Finalist Award and the Media Award from the National Down Syndrome Congress.
Ms. Kingsley is the author of the inspirational essay WELCOME TO HOLLAND which has been reprinted in many languages and in many forms all over the world. Dear Abby runs this piece every October to commemorate National Down Syndrome Awareness Month and it has been reprinted in CHICKEN SOUP FOR THE MOTHER'S SOUL. It has been used as the theme for several disability conferences, was worked into a patchwork quilt and is the subject of a series of oil paintings.
It was recently set to music as a choral piece by composer Terrence Minogue and was performed at a concert in Sacramento, California.
Ms. Kingsley lives in Chappaqua, New York. Two stepsons, Glenn and Todd, are grown and married. The Kingsleys have six grandchildren.
Charles Kingsley was a member of the Board of Directors of the Westchester Association for Retarded Citizens for 17 years, serving on 10 different committees. He was President of WARC for several years as well as Third and First Vice President and chairperson of several Board committees. He also served on the Board of Governors of the New York State Association for Retarded Children for 14 years. Charles passed away in 1997.
Jason Kingsley graduated in June 1994 from Lakeland High School in Shrub Oak, NY. He passed all of the New York State Regents Competency Exams in order to earn a full academic diploma.
With his friend, Mitchell Levitz, another young man with Down syndrome, Jason has written a book called COUNT US IN: GROWING UP WITH DOWN SYNDROME, which was published in January 1994 by Harcourt Brace & Company. COUNT US IN completely sold out the hardcover edition and is currently in its fourth printing in paperback. It has made the UPI Best Seller List and has won numerous awards, including the Washington Irving Book Award and the New York Public Library BEST BOOKS OF 1994 FOR TEENAGERS list, among others. COUNT US IN has been published in a Japanese language and a Hebrew language edition. A Spanish translation is being considered.
Jason recently graduated from Maplebrook School, a three-year post-secondary transitional program which has prepared him for independent living. He is now working as Assistant Cultural Arts Program Coordinator for Westchester ARC and has recently moved into his own apartment in Hartsdale, New York.
Last updated June 30, 1998 All material, unless otherwise specified, is copyrighted 1997-8 by Journey of Hearts A Healing Place in CyberSpace http://www.journeyofhearts.org/jofh. We invite you to share the information on this site with others who may benefit, but ask that you share from the heart only and not for profit.